Since 1983, Tampa Steel & Supply has been serving all of West Central Florida's steel needs. What began as a small division business for steel supplies has now grown into one of the largest suppliers of metal products and accessories in the Tampa Bay area. Located in Tampa's historic Ybor City, Tampa Steel & Supply is proud to be your one-stop-shop for all your steel and supplies. As a family- and veteran-owned & operated business, we strive to make your visit to Tampa Steel & Supply personal and productive by providing exemplary customer service coupled with our extensive list of products.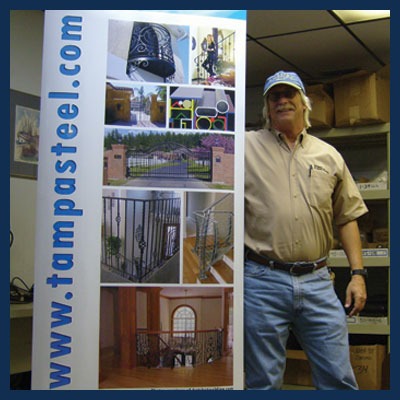 The Innovative Trio
The inspiration behind Tampa Steel & Supply began over 40 years ago. Original owners Herb Wax and brothers Mark Goldman and Bruce Goldman met while attending the University of South Florida and decided to start their own scrapyard after graduation. The Florida natives worked together and created Scrap-All Inc. in Tampa in 1973. The trio had many customers interested in buying pieces of scrap metal and the like for projects and they sought to meet this growing demand. As more customers were looking for steel, Bruce was inspired to open another division of Scrap-All Inc. for steel and surplus material from purchases and sales. This is how Tampa Steel & Supply was born.
The Growth of Tampa Steel & Supply
Tampa Steel & Supply and Scrap-All Inc. sat on the same property, which gave customers access to a myriad of steel products and accessories. As Tampa Steel & Supply continued to serve the steel needs of the community, the business began to grow. Soon, Tampa Steel & Supply outgrew the shared property and relocated to its own warehouse and yard right behind Scrap-All Inc. By being in close proximity to Scrap-All Inc., Tampa Steel & Supply had access to an extensive stock of surplus materials and scrap metals that made buying products convenient for customers. The notion that steel products in any form can be used and reused is what has helped to shape Tampa Steel & Supply into the business it is today.

Upon moving to the new location, Tampa Steel & Supply extended its repertoire by adding new steel and ornamental items as the company continued to prosper and grow. Now more than 35 years since opening, Tampa Steel & Supply is still family-owned & operated and has grown into a full-line steel service center that serves the needs of customers far and wide.
2018 saw another milestone as Troy Underwood, who had served as TSS's President since 2014, purchased the company from its founders. Combining his extensive industry experience with military training and modern methods, he has led TSS to strong growth while preserving its tradition of warm customer service.
In 2020, TSS added a new brand: Urban Metals, your source for custom metal art. Whether you choose from our extensive selection of designs or submit your own design for a unique piece, our CNC plasma cutter turns your artistic vision into steel reality.
Right Metal, Right Time, Right Company
At Tampa Steel & Supply, we pride ourselves on providing excellent customer service coupled with quality products. We are the only metal service center in the greater Tampa Bay area that offers and promotes prime, secondary, surplus, and ornamental metals. By doing this, we can meet almost every job and budget for any of our prized customers. If you're interested in learning more about all of the products and services we offer, or would like a catalog, visit Tampa Steel & Supply today!