Besides steel, aluminum is one of the most used metals out there. This is largely due to how versatile and efficient the metal is. Besides providing a strong structural support to various machined parts and construction materials, aluminum does so without adding excess weight to the products. At Tampa Steel & Supply, we stock a variety of aluminum metal products, both new and secondary, so you'll always have the supplies you need for your projects.
Benefits of Aluminum
Not sure what metal is the right option for you? Aluminum is a great choice for your next project for many reasons. Here are just a few:
Corrosion Resistance: Aluminum produces a naturally occurring oxide film, which protects it from rusting.
Durability: Aluminum is very strong, long lasting, and can hold up in various environments and temperatures.
Lightweight: Aluminum is only 1/3 of the weight of other metals like copper, iron, steel, or brass. This makes the metal easy to handle and far less expensive to ship, which can cut down your overall expense by a big margin.
Heat Conducting: Unlike some other metals, aluminum is great at conducting heat. This makes aluminum the ideal choice for projects that may require heat exchangers.
Resilience: Aluminum is a very resilient metal. It's flexible and can flex under heavy loads and spring back from impacts, making it extremely durable.
Customizing: Want to add custom finishing touches to your project? Maybe a fresh coat of paint or a powder coat. Aluminum allows you to add any type of finishing layer or coat so you can customize your project to your liking!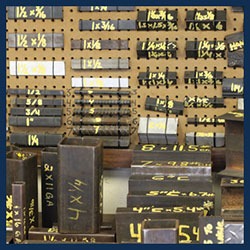 Contact Tampa Steel & Supply for Aluminum and Other Metals Today
At Tampa Steel & Supply, we believe that our customers are the true strength of our business. This is why we strive to provide quality projects and quality customer service. Whether you're looking to purchase metal for a big project or small project, we have something for you. And because we know that choosing the right metal can feel intimidating, we offer personal assistance to help you make the right choice.
Check out our extensive list of products, and be sure to visit Tampa Steel & Supply today if you have any questions.