At Tampa Steel & Supply, we pride ourselves on offering an extensive list of quality steel products. By offering prime, new, secondary and surplus steel, we can meet the needs of all of our customers, no matter how big their project. Moreover, we offer an invaluable combination of quality, service and competitive prices so you'll get the highest quality products at the best cost. Our extensive inventory and processing capabilities make Tampa Steel & Supply your all-in-one source for all of your steel needs.
Our Steel Supply
We carry a large selection of products, both new and surplus, to save you money. While we offer numerous products and services, below are some of the quality steel products we sell:
Aluminum
Alloy
Angles
I Beams
Wide Flange
Channels
Cold Bars
Cold Rolled
DOM Tube
Expanded
Flats
Galvanized
Grating
Grip Strut
Hot Rolled
HR & CR
Pipe
Plates
Rebar
Rounds
Square Tube
Stainless
Strips
Squares
Sheets
Tool Steel
Wire Mesh
Benefits of Steel
Steel touts extensive benefits, making it a great option for a variety of projects. For starters, steel has the greatest strength-to-weight ratio of any building material, so it provides durability without the added weight. Steel is very user-friendly and makes for a simplified foundation construction by providing straight walls, evenly squared corners and more. The metal is inorganic and won't rot, split or crack over time and can be easily repaired, altered or relocated if need be! Besides all of these benefits, steel is also fire resistant and will not burn or contribute to the spread of flames in case of a fire.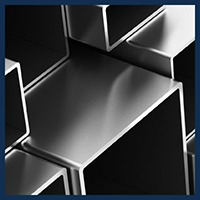 Right Metal, Right Time, Right Company
Once you select your steel supplies, it's important to have quality service to ensure that everything is cut, measured and delivered appropriately. This is why we offer top-notch service alongside our quality products. Our team of steel and supply specialists will cut your orders to whatever size is necessary.
We utilize a variety of techniques such as automatic band saw cutting, plate and sheet cutting, automatic burning and plasma cutting, punching, and notching, as well as blasting and priming to achieve that polished look. Once your order is complete, our fleet of trucks can have your supplies delivered to you the next day in most cases.

Your One-Stop Shop for Steel Supplies
With our extensive list of high-quality steel products, Tampa Steel & Supply has whatever you need for your next project, no matter if the job is big or small. Our expert staff is available to handle any inquiry you may have whether it is a general inquiry or a question regarding specifications. While we offer quality products, our customers are the true strength of our business, so we do whatever it takes to meet their needs.
These are just a few of the steel supplies we offer. Browse the rest of our products online, or come by our beautiful showroom to view our large inventory of ornamental iron components and sample designs. We are always happy to serve you so be sure to visit Tampa Steel & Supply today!