At Tampa Steel & Supply, we make selecting Cable Rail assemblies easy. This belief is easy to see in our variety of cable railing systems. By offering cable railing systems made from quality steel, our clients can have sleek, stylish cable railing that is durable and one that garnishes beautiful and unobstructed views.

Feeney Quick-Connect® Cable Fittings
In addition to CableRail, we stock Quick-Connect® cable end fittings. The automatic-locking-jaw design fits and applies to an entire line of cable end fittings. Not only are these fittings sleek and versatile, but they offer simplicity too.
Feeney DesignRail®
Designrail® has a sleek, contemporary look made with quality, durable aluminum. This innovative design allows you to have the safety of a railing, without obstructing your view. Plus, the long lasting, easy to maintenance aluminum offers an attractive and cost effective alternative to steel.
Looking for Cable Railing in the Tampa Bay Area?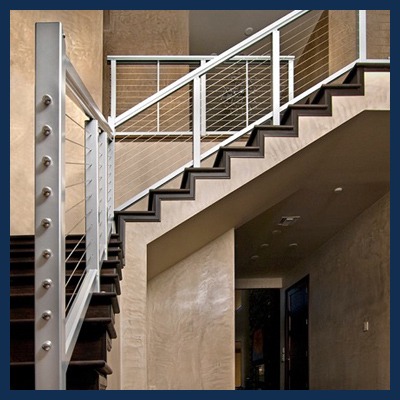 Why CableRail?
Tampa Steel & Supply is proudly affiliated with Feeney Inc., who offers superior cable railing systems. While other forms of railing systems can get the job done, here is why you should consider a Feeney cable railing system:
Unobstructed views – While cable railing touts numerous benefits, the aesthetics are what truly sets the railing apart. Cable railing is renowned for its beautiful, sleek design. Although beautiful, the cables are almost unnoticeable, which makes for unobstructed views, making it a perfect option for balconies that overlook beautiful scenery.
Durability – Feeney's CableRail is as durable as it is beautiful. Made from high-strength, low-maintenance, and weather-tough grade 316 stainless steel, cable railing is built to last.
Customization – Cable railing systems are sleek, stylish and offer customization based on your personal design aesthetic. Choose from a variety of Feeney Cable Rail end caps, including stainless steel end caps or different colored end caps, to put the final touches on your cable railing.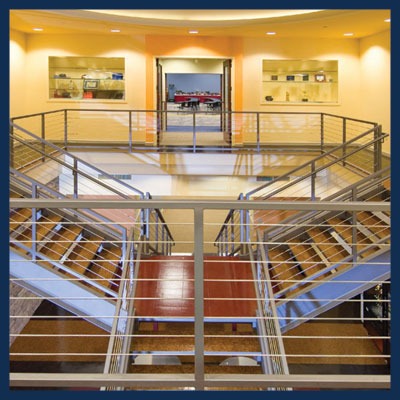 Feeney CableRail Assembly
At Tampa Steel & Supply, we make assembly easy. Here are some of the assembly packages we offer with our cable railing systems:
Standard – At Tampa Steel & Supply, we make standard cable assembly easy. We sell a wide range of cable railing products that are standardized and pre-cut for quick and simple ordering. Don't worry about taking time out of your busy life to take measurements either, just choose the assemblies that are slightly longer than what you need and trim any excess product.
Custom – Sometimes projects require a little more attention to detail. When the standard assembly just won't cut it, we offer custom assemblies too. To address custom installations, Tampa Steel & Supply offers a wide variety of cables, turnbuckles, terminals, adjusters, fixed ends and the like, so you can tackle any project. We have numerous samples in our showroom, so come get inspired!