Long gone are the days of traditional metal. With Tampa Steel & Supply's extensive list of ornamental iron, we can help you transform your home or business into a beautiful work of art. Whether you are looking to add an ornamental staircase railing to create a dramatic entrance to your home, a beautifully artistic fence or another creative option, we have all of the ornamental iron supplies you need.

Our Ornamental Iron Supply
Our state-of-the-art warehouse has an inventory of ornamental iron products that are ready for your use, whether you have a renovation, fabrication project or another task at hand. Chances are, if you want it, we have it on hand or can place a quick order for you. While we stock a vast list of ornamental iron products, here are some of our usual offerings:
Ornamental Metals
– Forged Steel
– Wrought Iron
– Aluminum
– Cast Iron
– Cast Aluminum
– Steel
– Brass
Ornamental Architectural Components
– Hand Forged Iron
– Wrought Iron
– Balusters
– Handrails
– Burglar Bars
– Brackets
– Fittings
– Rosettes
Let Us Inspire You!
When building your dream home, doing a renovation or fulfilling another creative project, it can be hard to imagine all of those fine details—but with our beautiful showroom, your dreams can become a reality. Our showroom houses our extensive list of inventory including ornamental iron components and sample designs so you can be inspired. Even better, Tampa Steel & Supply has the largest inventory of ornamental iron in West Central Florida, so we'll have everything for all of your ornamental iron needs.
Contact Tampa Steel & Supply for Ornamental Iron Today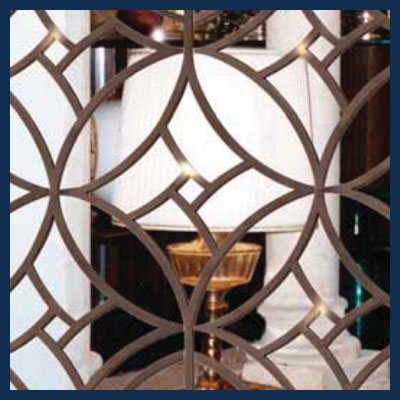 Ornamental iron is a great way to take your home or business to the next level, so why not let Tampa Steel & Supply help make your dreams a reality? We believe our customers are the true strength of our business, so we go above and beyond to ensure that they're satisfied with their purchases. This means that not only do we supply high-quality products, but we do it all with outstanding customer service.
If you have any questions or would like to view our entire inventory, visit our Tampa showroom or call Tampa Steel & Supply today.