At Tampa Steel & Supply, we offer products and services for a variety of projects. While some come to us for building materials for industrial design, we also supply metal to artists. In our newest series, Steel Artist Spotlight, we're highlighting some of the most creative steel artists in the area. Last time we showcased the beautifully creative works from the Tampa-based artists at Rustic Steel, which you can see at your favorite spots around the Bay Area. This week, we're taking a closer look at the works of Jon Allen.
Who is Jon Allen?

Jon Allen is a fabulously talented metal artist who has been in the business for over 20 years. He owns a studio called Statements 2000 Metal Art/Jon Allen Metal Art near West Palm Beach, Florida.
Jon has always been an artist, but he received his formal training at the Art Institute of Fort Lauderdale.
Jon was exposed to a variety of new influences while he was in art school. He was especially taken with abstract painters, and forward thinking architects. He counts Paul Klee and Frank Lloyd Wright among his main influences.
To bring out the range of texture and color like his influences, Jon enjoys exploring the chromatic effects of paint on metal as the structure is manipulated and twisted underneath. The result is a style of art that explores the abstraction made so famous in the 20th century.
Jon also finds inspiration in marine life. He loves exotic fish and the fun textures of undersea plants. This influence by nature certainly gives his art an organic feel, where so many other pieces of metal art can feel so sterile.
Rather than being cold and rigid like some metal works, Jon transforms metal into tranquil, dynamic, and natural feeling pieces of art.
Jon's unique sensibilities as an artist are certainly making an impact in the art world. You can find Jon's artwork featured on ABC, Netflix, VH1, HGTV, and even in Hollywood movies!
Jon Allen's Work
Jon Allen's Metal Artwork in ABC's "Nashville"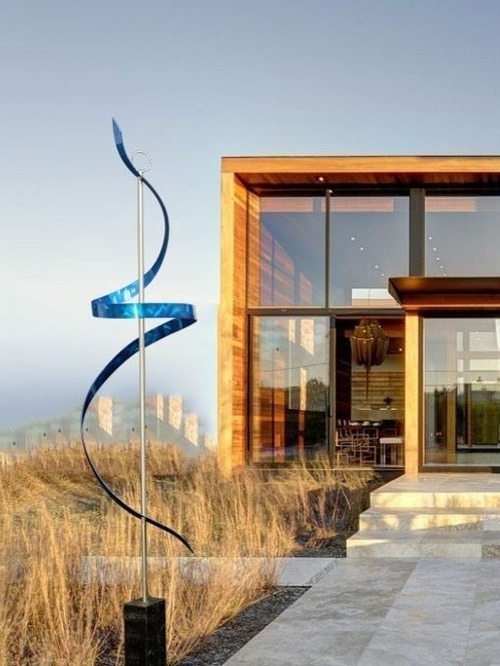 This piece by Jon Allen is called "Blue Ribbon Dancer".
The sculpture is made from aluminum, hand textured, and hand-painted with a UV protective powder coat finish. It's perfect for indoor or outdoor display!
Jon creates stunning focal points for your home by hand carving the metal so it best captures and reflects surrounding light sources. This texturing process helps the sculpture create illusions of dimensions, depth, and expressive 3D movement.
Here's a clip from ABC's hit show "Nashville" featuring Jon Allen's "Blue Ribbon Dancer"!
Jon Allen's Metal Artwork for "30 Rock" Star's Wedding
In October 2013, Jon Allen created two custom sculptures for the wedding of "30 Rock" star Keith Powell and actress Jill Knox. Jon Allen said, "I felt truly honored that Kevin and Jill chose me to create this beautiful artwork for their special event."
Jon created two custom silver sculptures especially for the wedding, which frame the altar where Keith Powell and Jill Knox exchanged vows.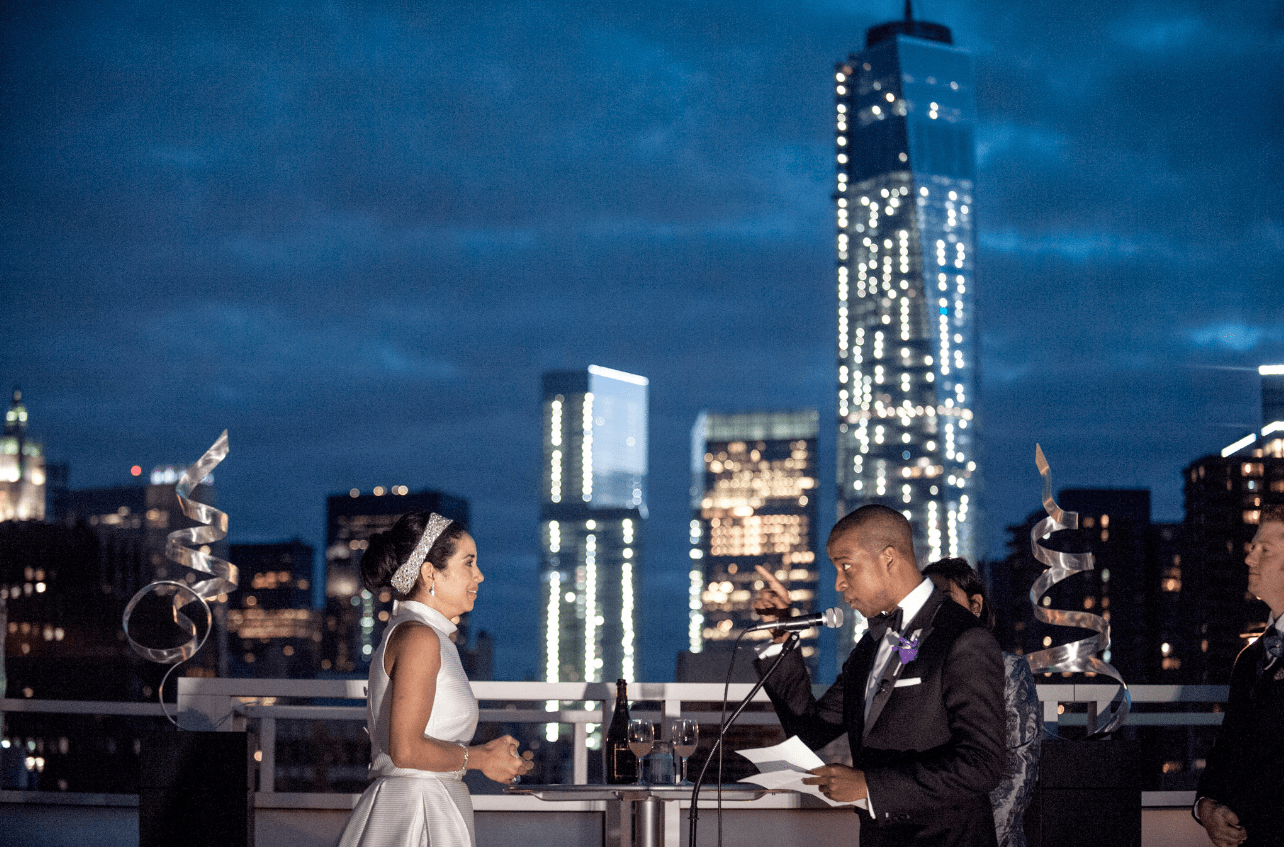 Jon Allen's Metal Artwork in Netflix's "Hemlock Grove"
The Netflix original series is set in Hemlock Grove, Pennsylvania. Hemlock Grove is a small town with a mixture of extreme wealth and poverty. Everything is not as it seems in Hemlock Grove, where the town's largest employer The Godfrey Institute for Biomedical Technologies is rumored to conduct sinister experiments on a daily basis.
Things take a darker turn for the worst at the opening of season one, as two teenage girls are brutally killed and their bodies left for unsuspecting people to discover the next day. Hemlock Grove is a town of mysteries and spooky secrets.
What will you find when you look a little more closely at the mysteries of Hemlock Grove?
Why Jon Allen's original modern clock the "Time Keeper" of course!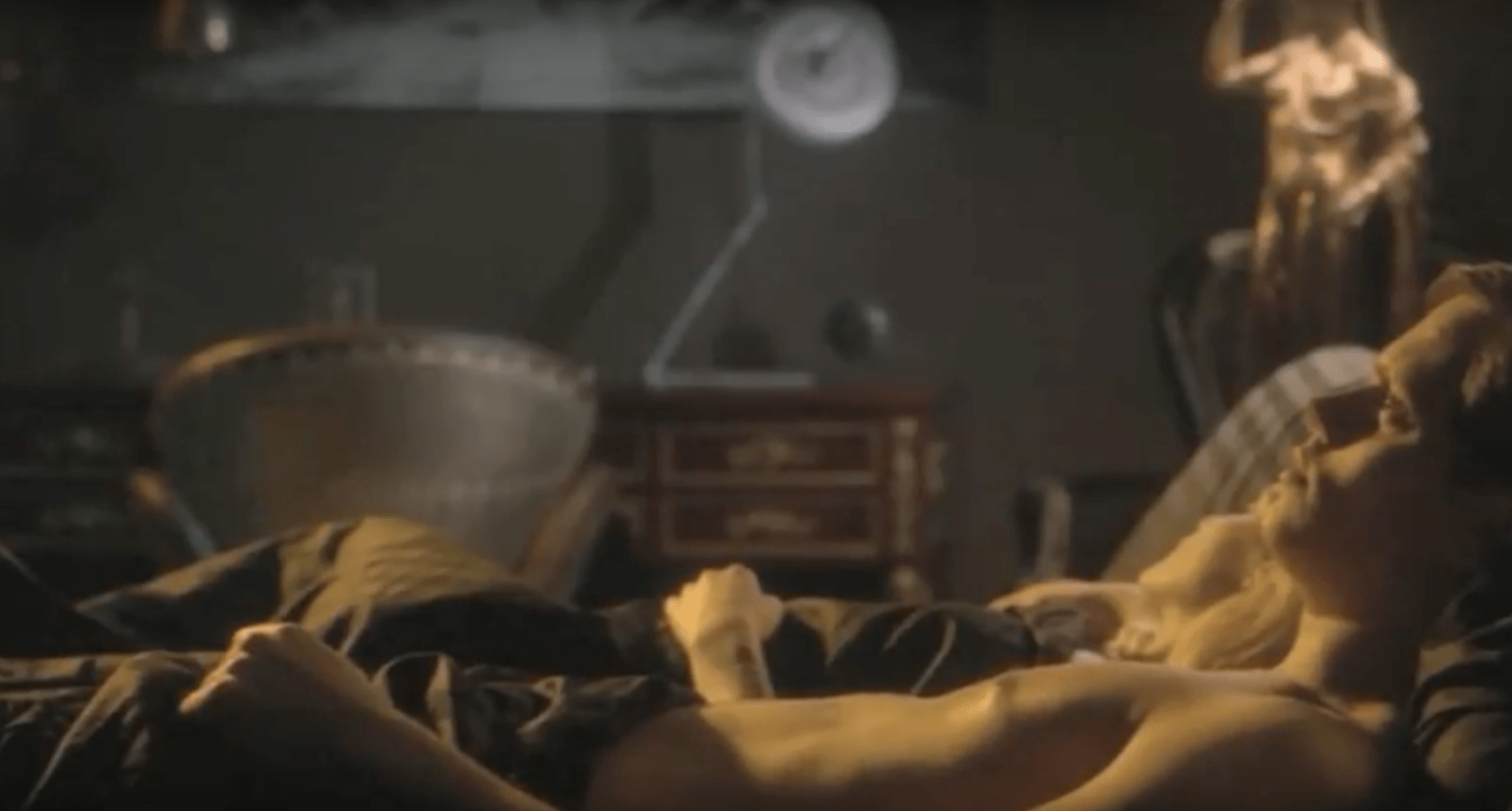 Need a closer look?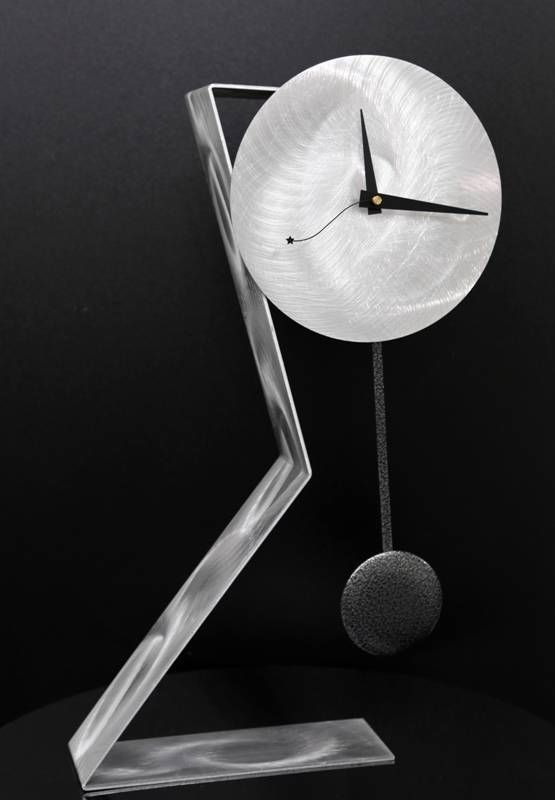 Jon Allen's Metal Artwork in VH1's "Basketball Wives LA"
Basketball Wives is a reality TV show that chronicles the lives of a group of women who are the wives and girlfriends or have been romantically involved with, professional basketball players in the NBA. It originally aired in 2010, with a spin-off "Basketball Wives LA" coming out in 2011. In 2017, the casts of the two shows will converge and the show will again go by its original name "Basketball Wives".
The basketball wives sure do love Jon Allen!
You can find Jon Allen's work in a variety of different rooms in their home: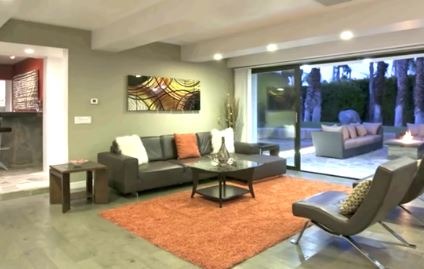 His piece "Fantastic Journey". The dramatic color comes from a combination of translucent dyes and hand painted pigment color tones. There are sculpted details interwoven into each panel for a continuous fluidity to the piece. Finally, Jon's signature intricate grind patterns round out this dazzling piece of art.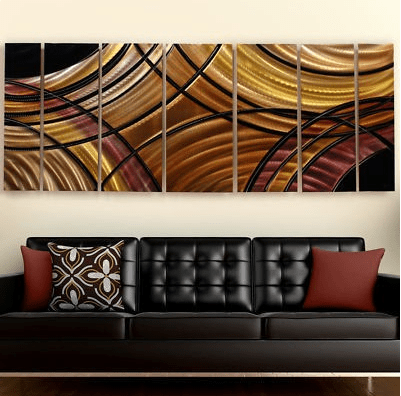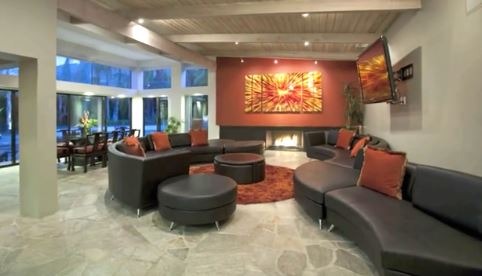 His piece "Amber Vortex XL". The layered, rich amber strokes create a fiery visual depth to this composition. The flames will almost jump off the piece at you as you look at it, because of Jon's signature etching and polishing which transform the piece at different viewing angles.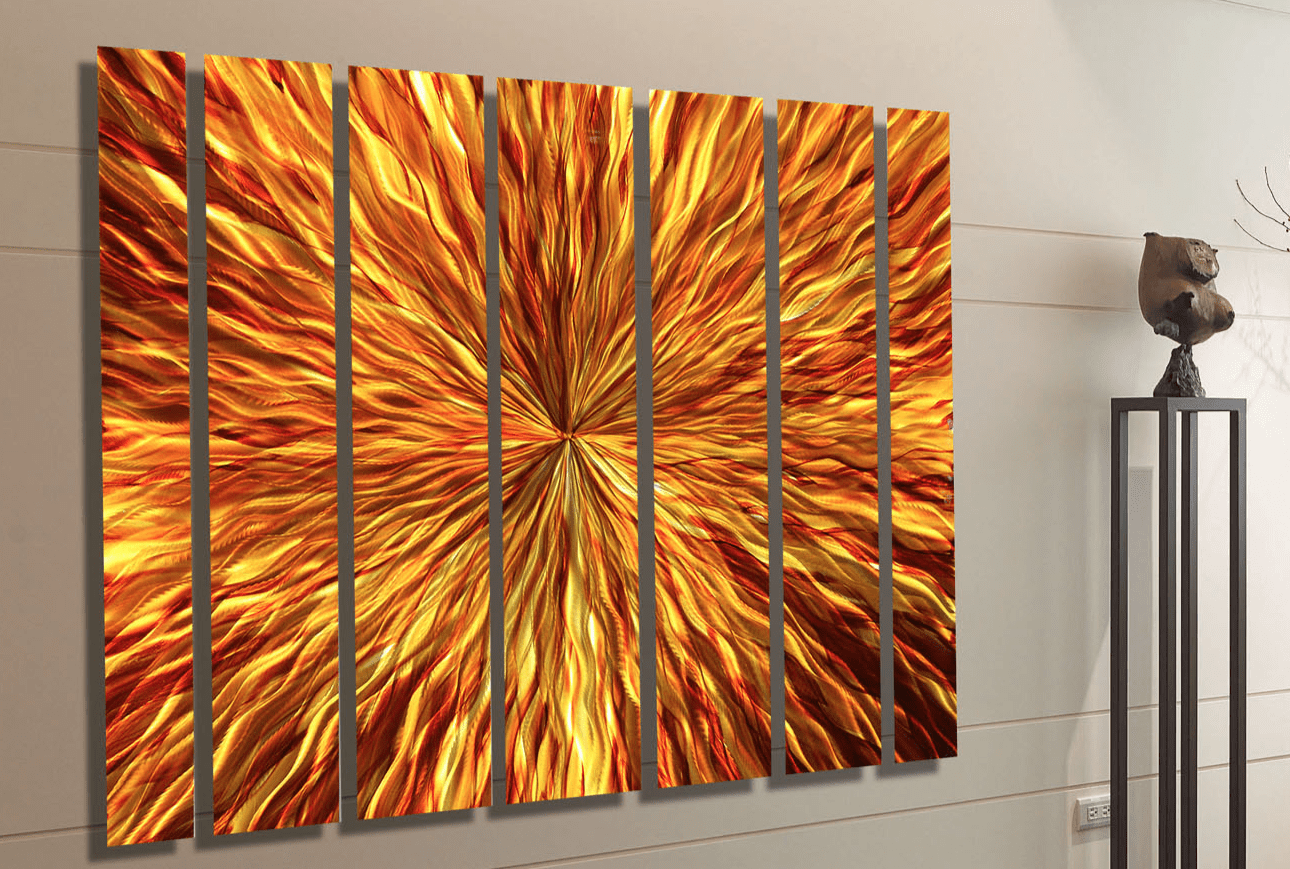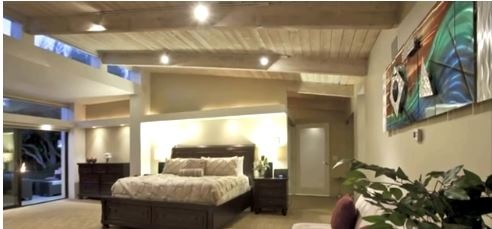 His piece "Stylus". This piece is a bit different from most of Jon's work because of the 3D cutouts featured in it. The metal tone cutouts make for a dramatic and eye-catching contrast with the flowing multi-colored grind patterns in the background.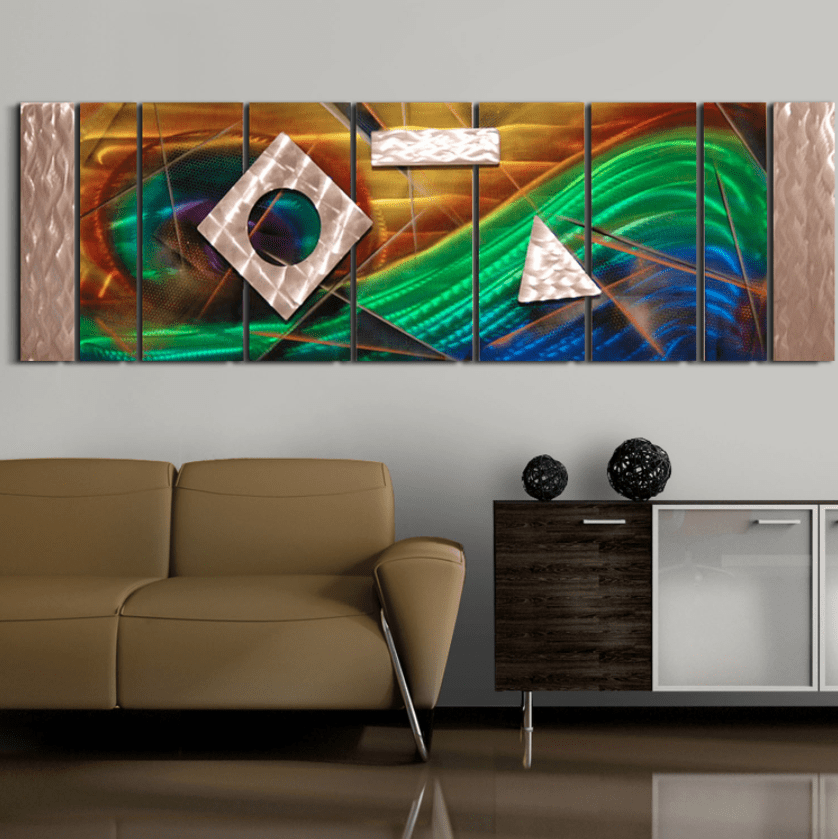 See them in the episode:
Jon Allen's Metal Artwork in "Central Intelligence"
Central Intelligence is a movie starring Dwayne "The Rock" Johnson and Kevin Hart. Bob Stone (Dwayne Johnson) was bullied for being overweight as a teenager. The movie opens with him showing up to his high school reunion looking fit and muscular. While at the gathering, he finds his friend Calvin Joyner (Kevin Hart), a fast-talking accountant who misses his glory days as a popular athlete. Stone needs Joyner's number skills to help him save a compromised US spy satellite system. Together, they encounter shootouts, espionage, and double-crosses while trying to save the world.
The film features two of Jon Allen's original pieces.
The first is "Maritime Massive":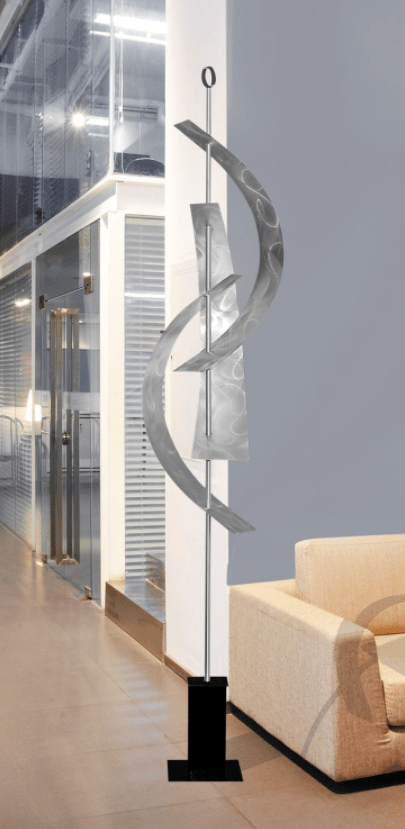 Aluminum arcs surround a central axis in this free standing sculpture, suggesting a boat sailing across the sea. The arcs evoke billowing sails and give a sense of movement as the piece is viewed from various angles. Jon's signature hand-textured intricacies capture and reflect the surrounding light sources to add a level of depth and 3D movement.
The second is "Perfect Moment":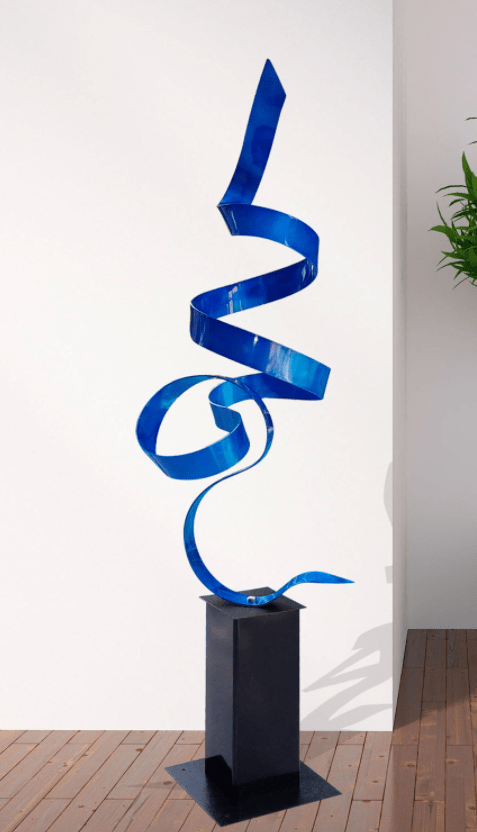 What's unique about this piece is that it loops, twists, spirals, rises, and turns back on itself in a single unbroken movement. This flowing form suggests a dance that is suspended in time. There is a unique sense of weightlessness to this gravity-defying metal sculpture.
See Jon Allen's metal artwork in Central Intelligence here:
Get Scrap Metal in Clearwater, St. Petersburg, and Tampa Bay
Whether you're creating a decorative work of art or starting a new construction project, we have all of the supplies you need. Give us a call today, or stop by our showroom in Tampa so we can help you personally! You can also purchase some of our metals online or request a quote.
Request a Quote Online
Or Call Tampa Steel & Supply at (813) 241-2801