Tampa Steel & Supply has a wide selection of flat steel products. When the term "flat" is used to describe steel, it refers to products that consist of both steel sheets as well as steel plates. Since flat steel products are used in a wide range of applications across all industry sectors, it's important to understand exactly what they are and what functions and applications they serve.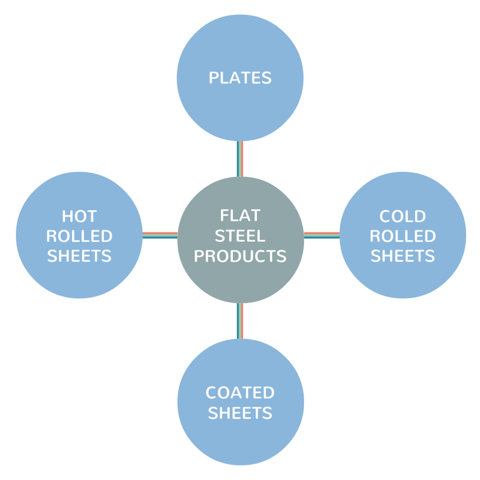 Different Flat Steel Products
Plates
Hot Rolled Sheets
Cold Rolled Sheets
Coated Sheets
Steel Plates

Typically tailored to specific customer instructions
Used in construction, shipbuilding as well as industrial machinery
Hot Rolled (HR) Steel Sheets

Fabricated at temperatures at or above 1,000 degrees Fahrenheit
Due to the high temperatures at which it's processed, deformation takes place which causes HR steel to be lesser in strength than cold rolled steel
High malleability and moldability
Used in automobiles, agricultural equipment, construction, and fabrication of other types of machinery
Cold Rolled (CR) Steel Sheets

Processed at room temperature by high amounts of pressure
Typically more precise than hot rolled steel since no melting causes steel to become recrystallized and deformed
Higher cost than HR steel
Used to fabricate domestic appliances and other materials requiring high precision
Coated Steel Sheets

Coated with aluminum and zinc to enhance quality and anti-corrosion properties
Used in a variety of industry sectors—automobiles, home electric appliances, building materials, beverage cans, housing, and transformers
Visit Tampa Steel and Supply for Quality Flat Steel Products
If you are working on a contracting, engineering, or renovation project that calls for flat steel products, Tampa Steel and Supply is your one-stop-shop for top-of-the-line steel supplies. Stop by our showroom to browse our vast inventory selection, or contact us today.
All of us at Tampa Steel and Supply are passionate about ensuring your project—no matter the size or scope—exceeds all expectations. And as always, we work to provide you with the right metal, at the right time. Call today to speak with one of our friendly team members and find out how we help in turning your building dreams into reality.
Request a Quote Online
Or Call Tampa Steel & Supply at (813) 241-2801