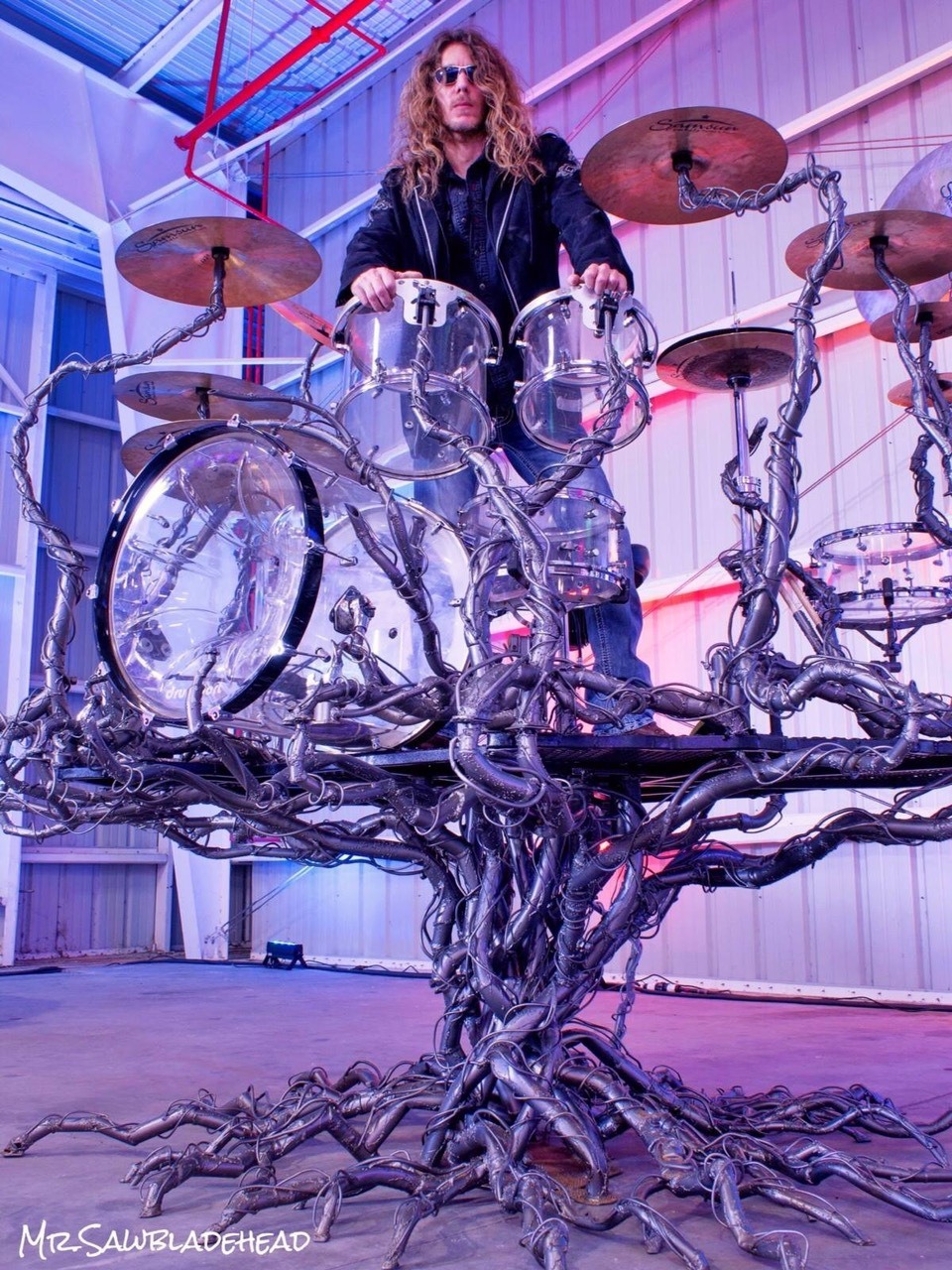 Tampa Steel & Supply has the BEST and most talented customers! Sawbladehead Designs based out of Florida can do it all and they have been a customer for over a decade with TSS. Mr. Sawbladehead, "aka" Shawn Lowery, is a Drummer, Artist, Audio Engineer, and Metal Fabricator. He has worked for many years perfecting his Art and Craft to help 100s of Musicians and Art collectors Worldwide! Sawbladehead Designs fabricates one of a kind,  functional metal art sculptures, custom furniture, home furnishings microphone stands, drums, musical instruments, and more.
Some of the musicians that Mr. Sawbladehead has fabricated for are:
Ray Luzier & Brian Head Welch of KORN, Glen Sobel of Alice Cooper, Oliver Palotai of KAMELOT, Steve Braun of Halcyon Way, Michael Mcknight of SOULIDIUM, TRIP6 of GEARS, Glen Cummings, Scott Von Heldt, Todd la Torre of Queensryche, and many more!
Mr. Sawbladehead came to Tampa Steel & Supply's Sales Office, Warehouse, and Yard to film a video for an upcoming TV Show Pilot Episode called "Blood, Sweat and Steel".
Check out the Sawbladehead YouTube channel to see more of their work and some of the famous musicians they've designed for.
Subscribe to the Sawbladehead YouTube channel now for monthly contests and updates. Mr. Sawbladehead will be only releasing a few teasers until the pilot episode and several "mini" episodes are completed which are scheduled to be released in the fall/winter of 2018. A HUGE video release party and concert are in the works now including several custom Sawbladehead Designs giveaways!
Here's some information about his proposed TV Reality Show Season One. This show will take you behind the scenes with rock stars while they design and build one of a kind metal sculptures for their upcoming tour or possibly some wicked furniture for their home. Mr. Sawbladehead will take you on the road with some of the biggest names in Nascar, Indy, Prostreet drag race, monster truck and more and create designs using parts from their own vehicles. He plans on taking the show on the road across the United States to various stores like Lowes, Home Depot, and Menards and setting up welding and fabricating clinics in order to boost to build the skilled trades industry and education. Plus, he'll have several of his designs on display as well as one of his Sawbladehead artists there for a special live performance.
For more information about Mr. Sawbladehead, check out his Artist Facebook page, Sawbladehead Designs FB Page, Instagram, or website
Thomas Crane, Producer/Director/Editor of KILLDEVIL Films, filming Mr. Sawbladehead and Tampa Steel & Supply's employees. It was a fun and creative day.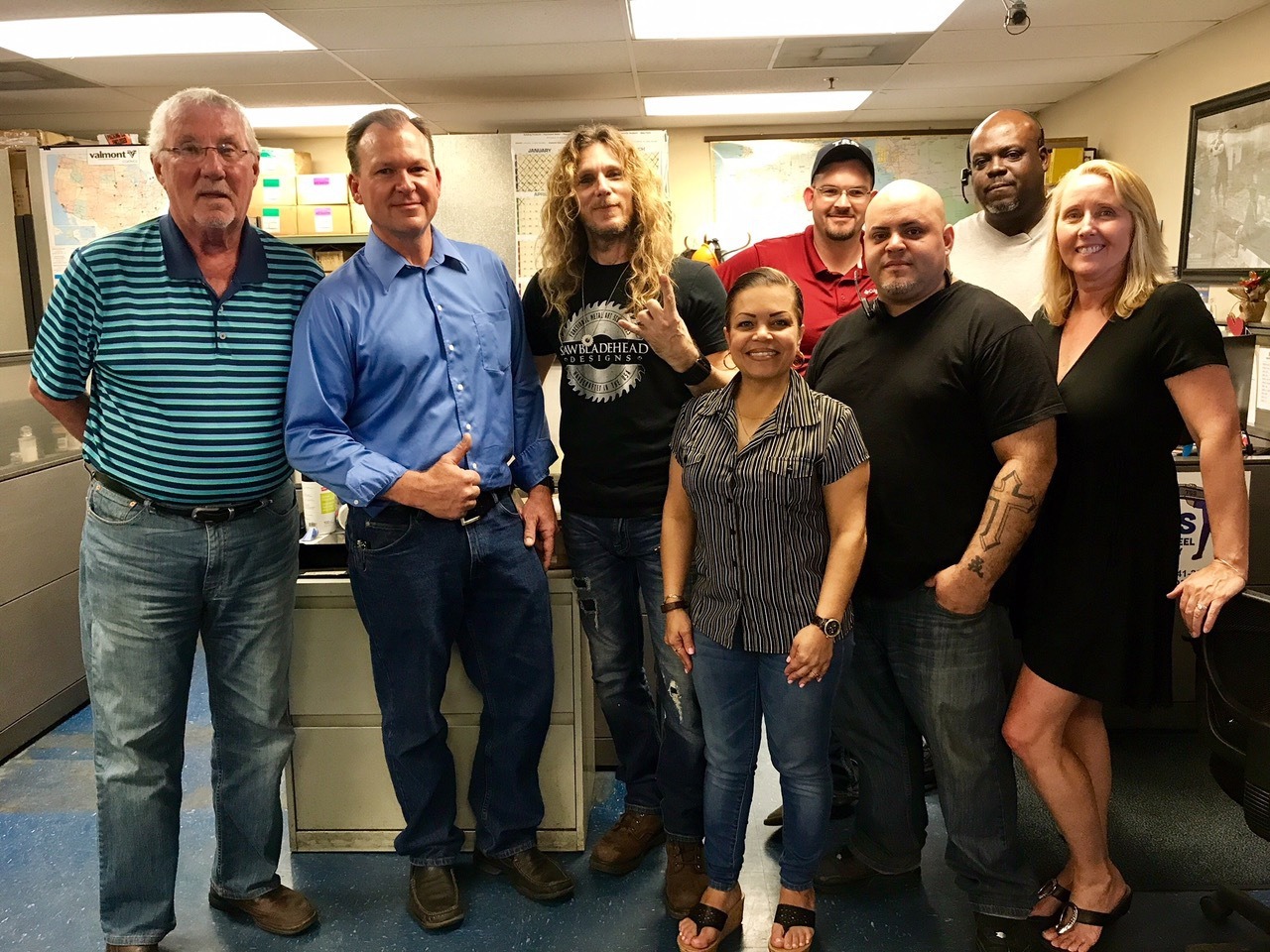 We are all looking forward to the release of the show being produced by Mr. Sawbladehead in the Fall.