If there is any building material that best represents American industry, it is steel. Check out our top ten favorite pieces of art constructed from our favorite metal.
The Top 10 Best Works of Steel Art
1. Jeff Koons' "Balloon Dog"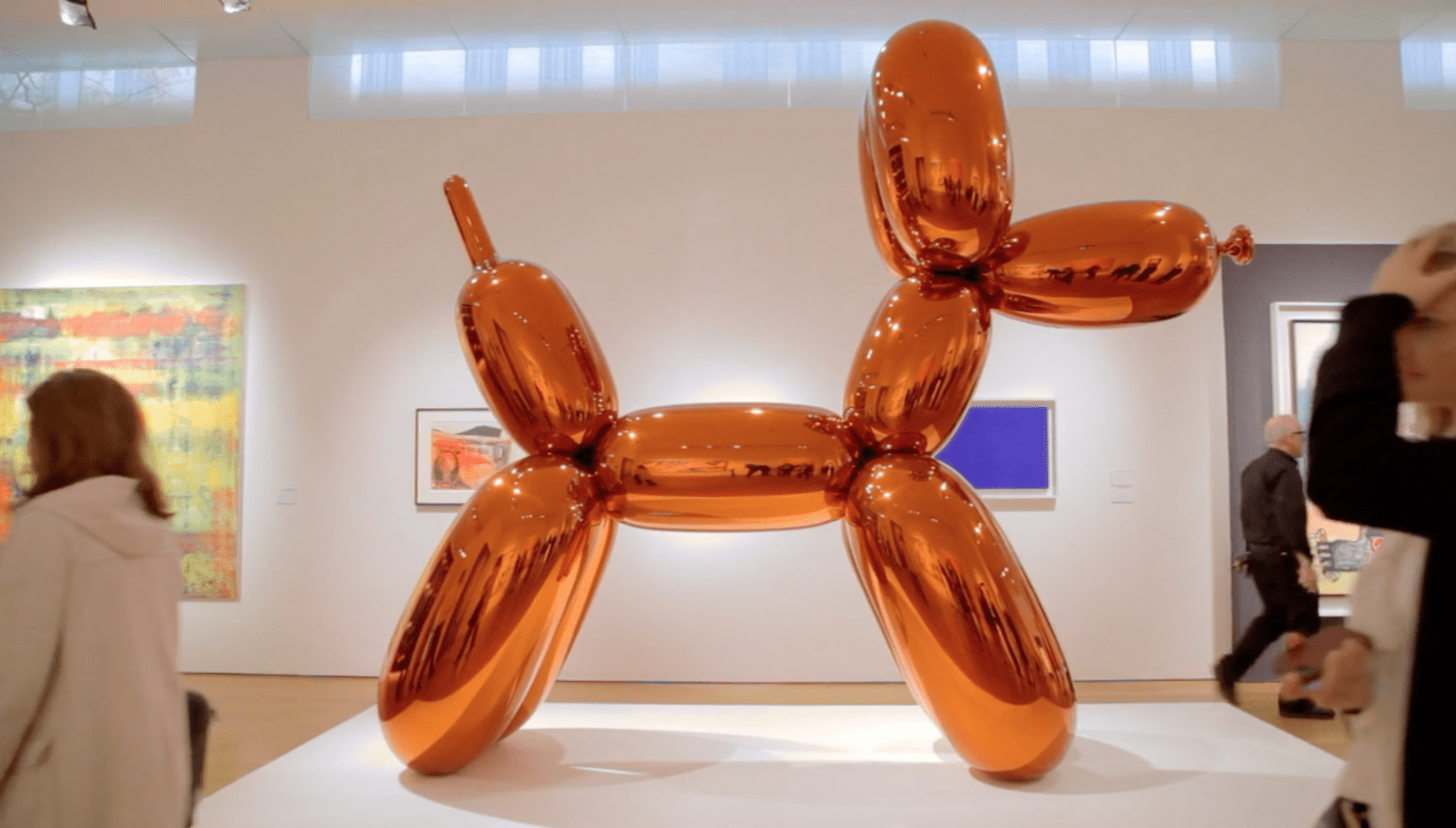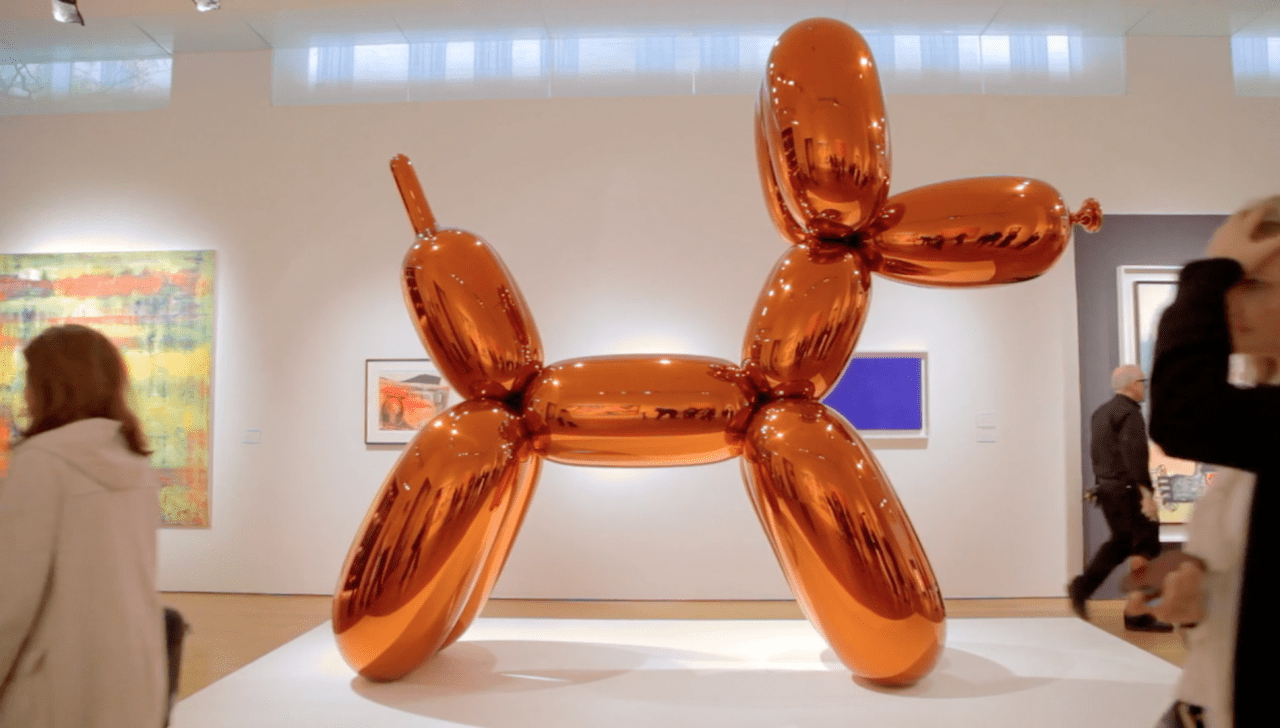 Jeff Koons was born in York, Pennsylvania. He studied at the Maryland Institute College of Art in Baltimore and the School of the Art Institute of Chicago. He received a BFA from the Maryland Institute College of Art in 1976. Koons has artwork installed in the Guggenheim Bilbao, the Papal Palace in Avignon, Château de Versailles, and Fondation Beyeler in Basel. 
Jeff Koons' pieces sell for hefty sums, including one world record auction price for a work by a living artist. Balloon Dog (Orange) sold at Christie's Post-War and Contemporary Art Evening Sales in New York City for $58.4 million!
Koons' Balloon Dog made with mirror-polished stainless steel and coated in transparent color makes steel look so soft!
2. Richard Serra's "The Matter of Time"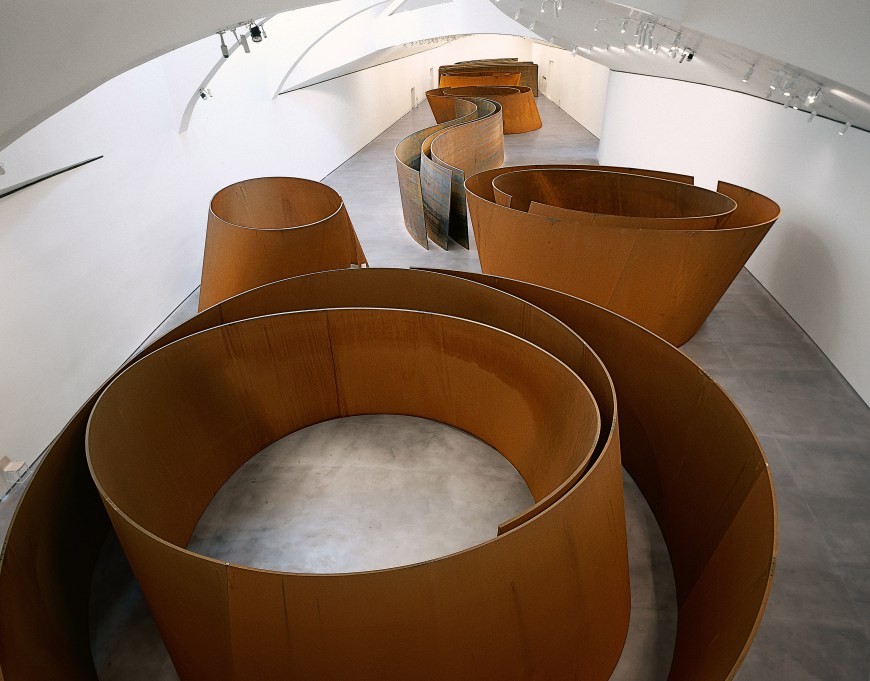 Richard Serra graduated with a BA from the University of California, Santa Barbara in 1961. He supported himself by working in steel mills while in school, which had an obvious influence on his later work. Serra then studied painting in the MFA program at the Yale University School of Art and Architecture.
Serra is a renowned artist, long celebrated for his challenging and innovative work. He considers himself a Process Artist, meaning that the end product (objet d'art) is not the primary goal. Instead, the process of gathering, sorting, associating, and creating – the creative journey – is the motivation. Some of Serra's favorite sculpting mediums are fiberglass, rubber, lead, and steel. 
His piece The Matter of Time is one of his large-scale steel sculpture installations. It is installed in the Bilbao Guggenheim Museum. Viewers were encouraged to move around, on, in, and through the work to encounter it from multiple perspectives. The viewer's relationship to the sculpture is part of its meaning!
3. Richard Serra's "Tilted Arc"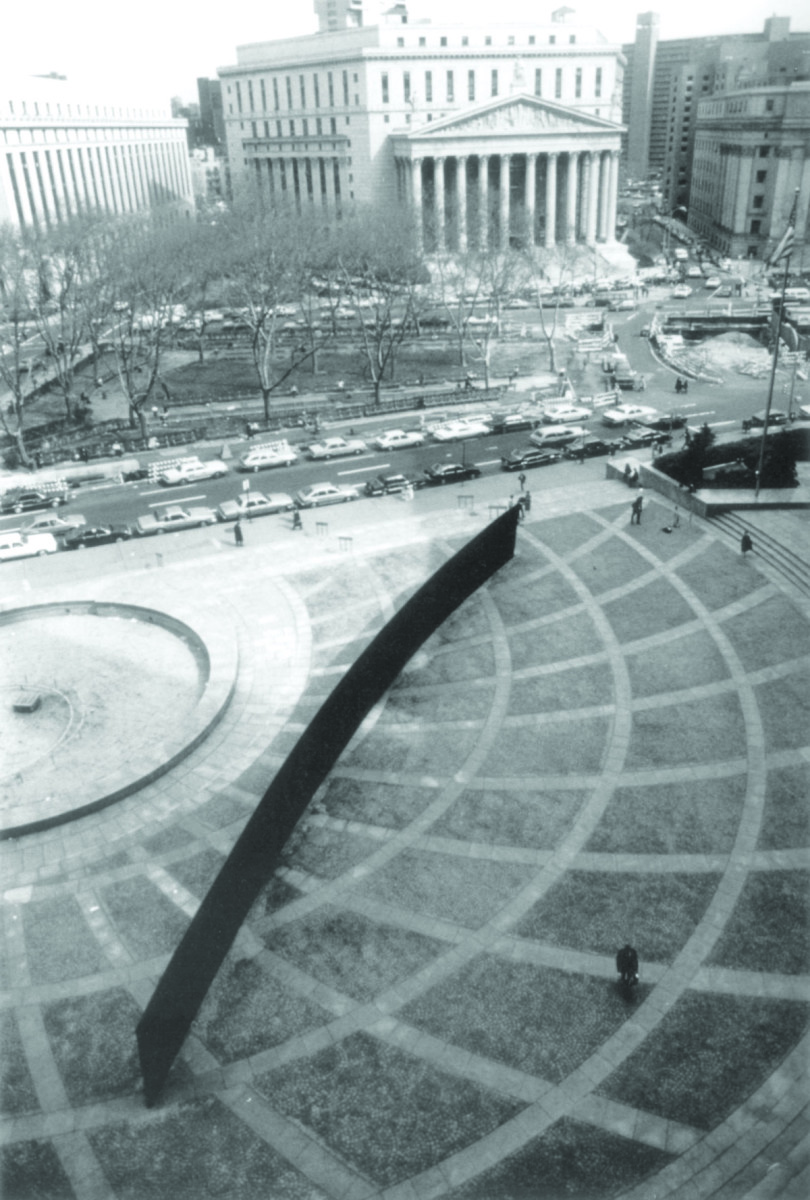 Serra's Tilted Arc has an interesting history. The piece was commissioned by the US General Services Administration as part of its "Art-in-Architecture" program. It was built in 1981 and was made of cor-ten steel, 120 feet long, 12 feet high, 2 1/2 inches thick, and 72 tons. It's a piece that is remembered for architectural and engineering flaws, and is located in the Federal Plaza in lower Manhattan.
Many people liked the installation, but it also drew criticism from a group of detractors. Some who worked in the area found it to be extremely disruptive to their daily routines, and within months there was a petition of 1,300 signatures to remove the work.
A public hearing was held about the sculpture in March 1985. 122 people testified in favor of the piece, including artists like Philip Glass, Keith Haring, and Claes Oldenburg. 58 local workers argued against the sculpture, one stated: "Every time I pass this so-called sculpture I just can't believe it … The General Services Administration, or whoever approved this, this goes beyond the realm of stupidity. This goes into even worse than insanity. I think an insane person would say, 'How crazy can you be to pay $175,000 for that rusted metal wall?' You would have to be insane-more than insane."
A jury of 5 voted 4-1 to remove the sculpture. Serra appealed this verdict which caught the case up in the courts for a few years, but the sculpture was eventually removed in March of 1989.
Today, the sculpture is in a storage space in Maryland. Serra is staunchly against its display anywhere other than its original location, so it's unlikely it will ever be erected again.
4. Alexander Calder's "La Grande Vitesse"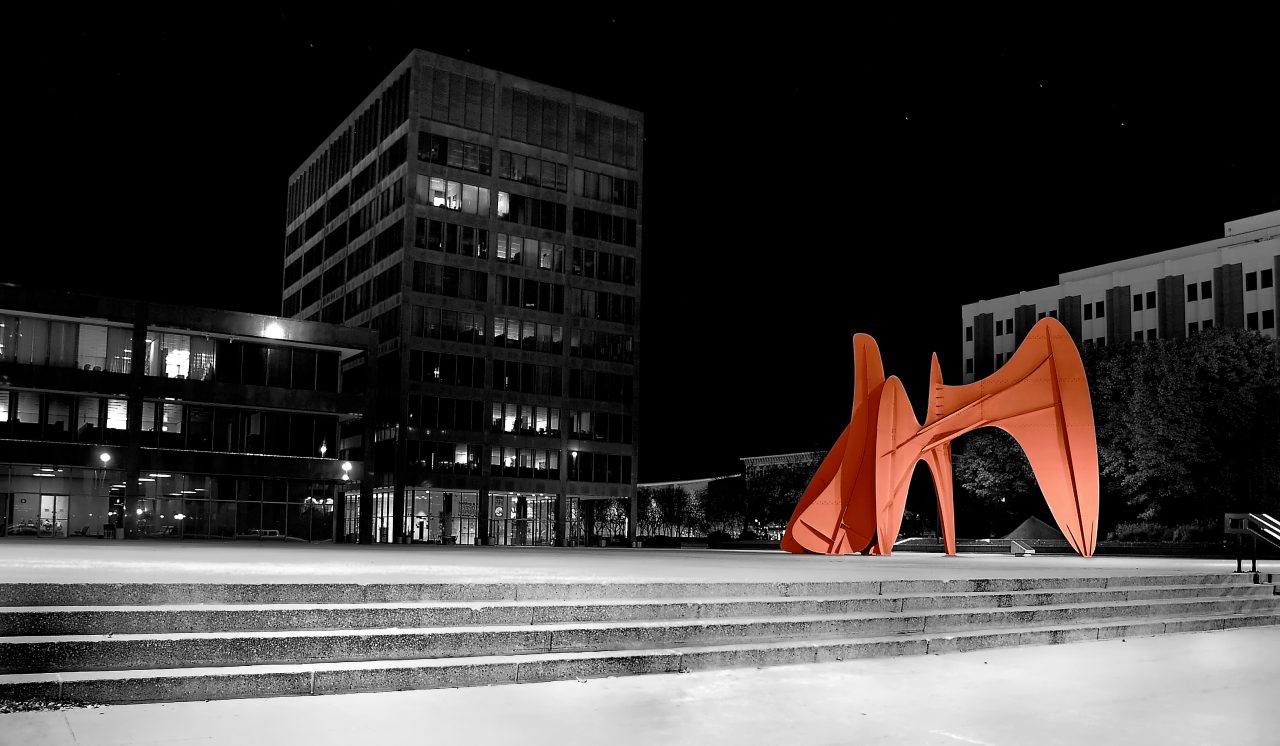 Alexander Calder is known as the creator of the mobile, a type of moving sculpture with delicately balanced shapes that move in response to air currents or touch. He has also created theatrical productions, paintings, prints, jewelry, and more!
Calder received a degree in Mechanical Engineering from the Stevens Institute of Technology in 1919. He held a variety of jobs, including working as a hydraulic engineer and a draughtsman for the New York Edison Company. In 1926, Calder moved to Pairs and enrolled in the Académie de la Grande Chaumière.
La Grande Vitesse weighs 42 tons and measures 54 feet long, 43 feet high, and 30 feet wide. The piece can be found in Grand Rapids, Michigan on the large concrete plaza surrounding City Hall and the Kent County Building. This eye-catching steel piece was created in 1969 and serves as a distinctive landmark and symbol of Grand Rapids. There's actually an abstraction of the sculpture on the city's official logo!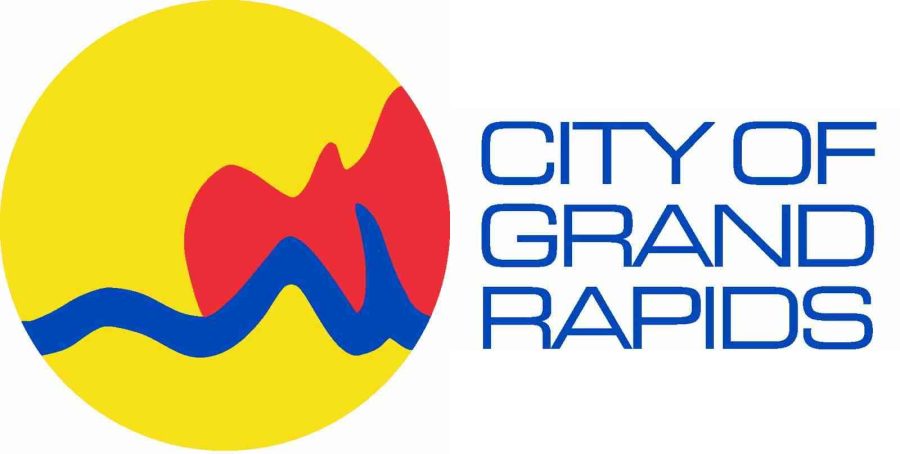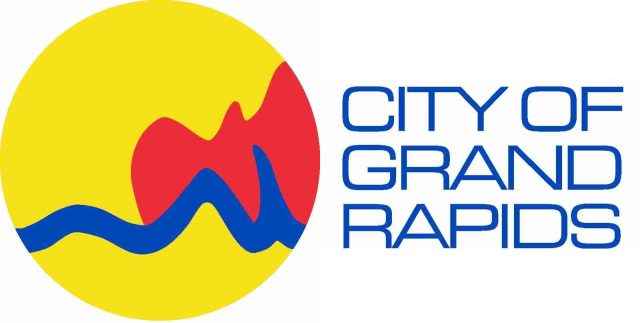 5. Sculptor Eduardo Chillida and architect Luis Peña Ganchegui's "Peine del Viento" ("Wind Comb")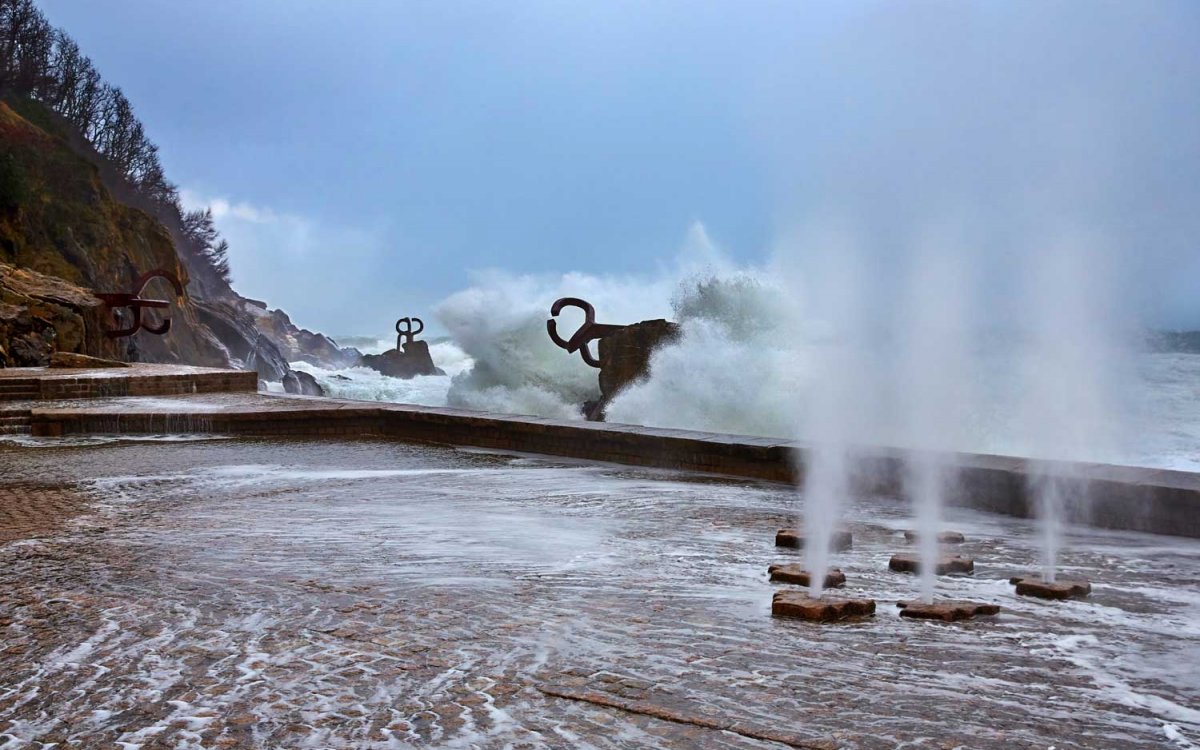 Eduardo Chillida was a Spanish Basque sculptor famous for his larger than life abstract works.
At their best, his works suggest moving and tension despite being massive metal structures. Chillida's work is installed all over the world, including commissions from the Office of the Federal Chancellor in Berlin, the Unesco headquarters in Paris, the ThyssenKrupp building in Düsseldorf, and a courtyard at the World Bank office in Washington.
Wind Comb is a collection of 3 sculptures that overlooks the Bay of San Sebastian. Each sculpture weighs 10 tons and has wave-driven outlets for air and water. The impressive steel sculpture showcases the fierceness of the sea and the strength of the iron structures.
6. Alexander Calder's "Flamingo"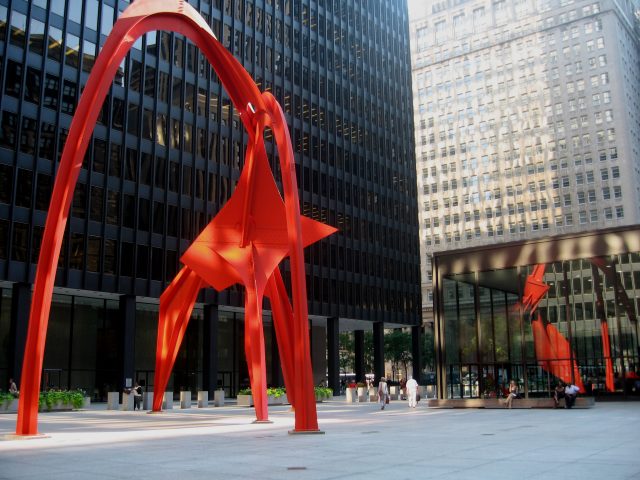 Flamingo was the first piece of public art commissioned under the federal "Percent for Art" program, which set aside budget dollars from building projects for public art. The sculpture's beautiful arch shape and "Calder red" stand in stark contrast to the black, blocky steel and glass buildings surrounding the plaza. The placement allows visitors to walk through the arches to experience the sculpture.
It stands a brightly colored 53 feet into the air in Chicago, Ill. It's like an abstract bird from the imagination.
7. Walter De Maria's "Cage II"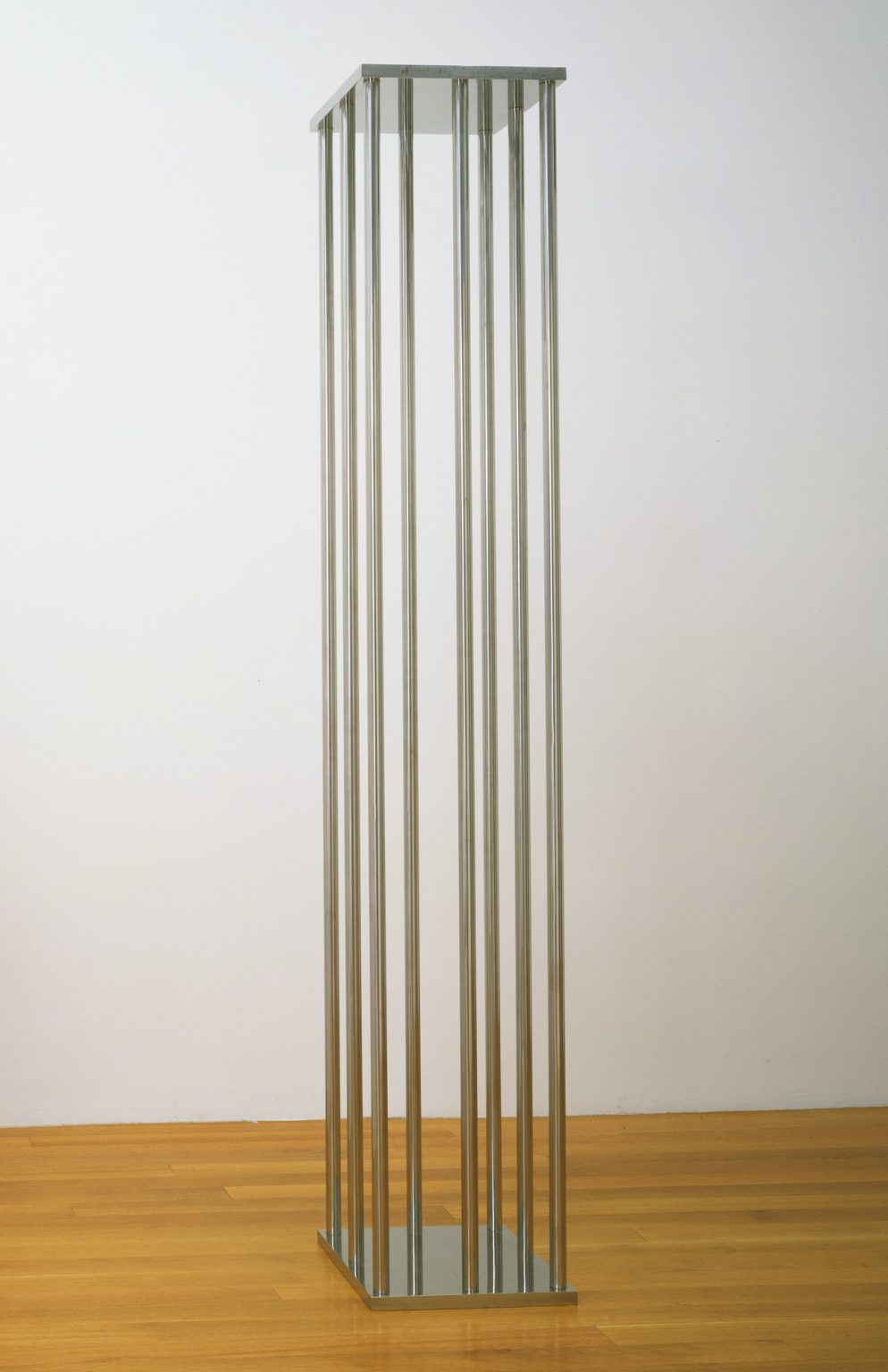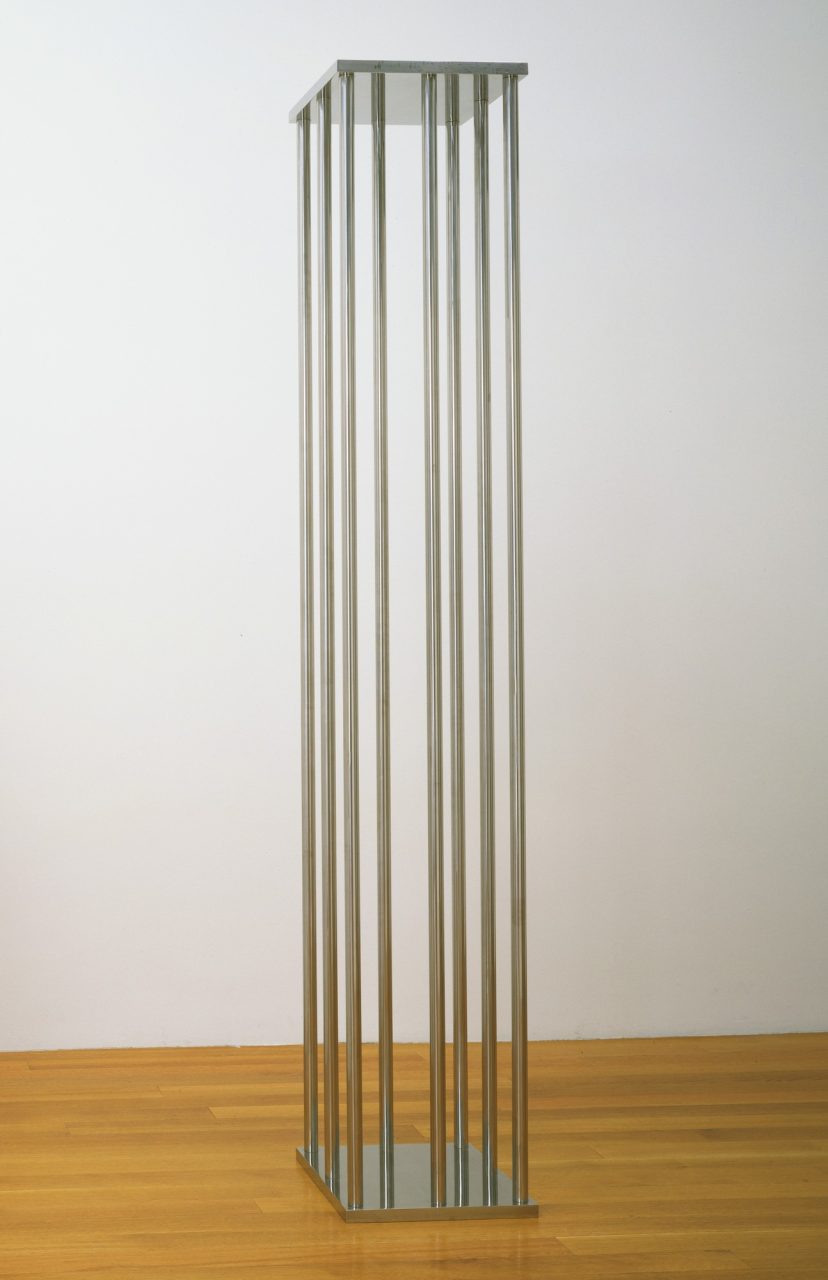 Walter De Maria graduated with a BFA in 1957 from the University of California at Berkeley. He obtained an MFA from UC Berkeley in 1959.
He created his early sculptures in the 1960s, they were influenced by Dada, Suprematism, and constructivism. These influences led De Maria to explore the use of simple geometric shapes. He enjoyed using industrial mediums like stainless steel and aluminum to explore form.
He created the sculpture Cage for his friend John Milton Cage, who is famously known for his composition 4'33".
Cage II is a reiteration of the earlier sculpture Statue of John Cage. The piece is simple, but it is also oddly chilling. Its purity and geometry represent the minimalist art movement of the 1960s.
8. Antony Gormley's "The Angel of the North"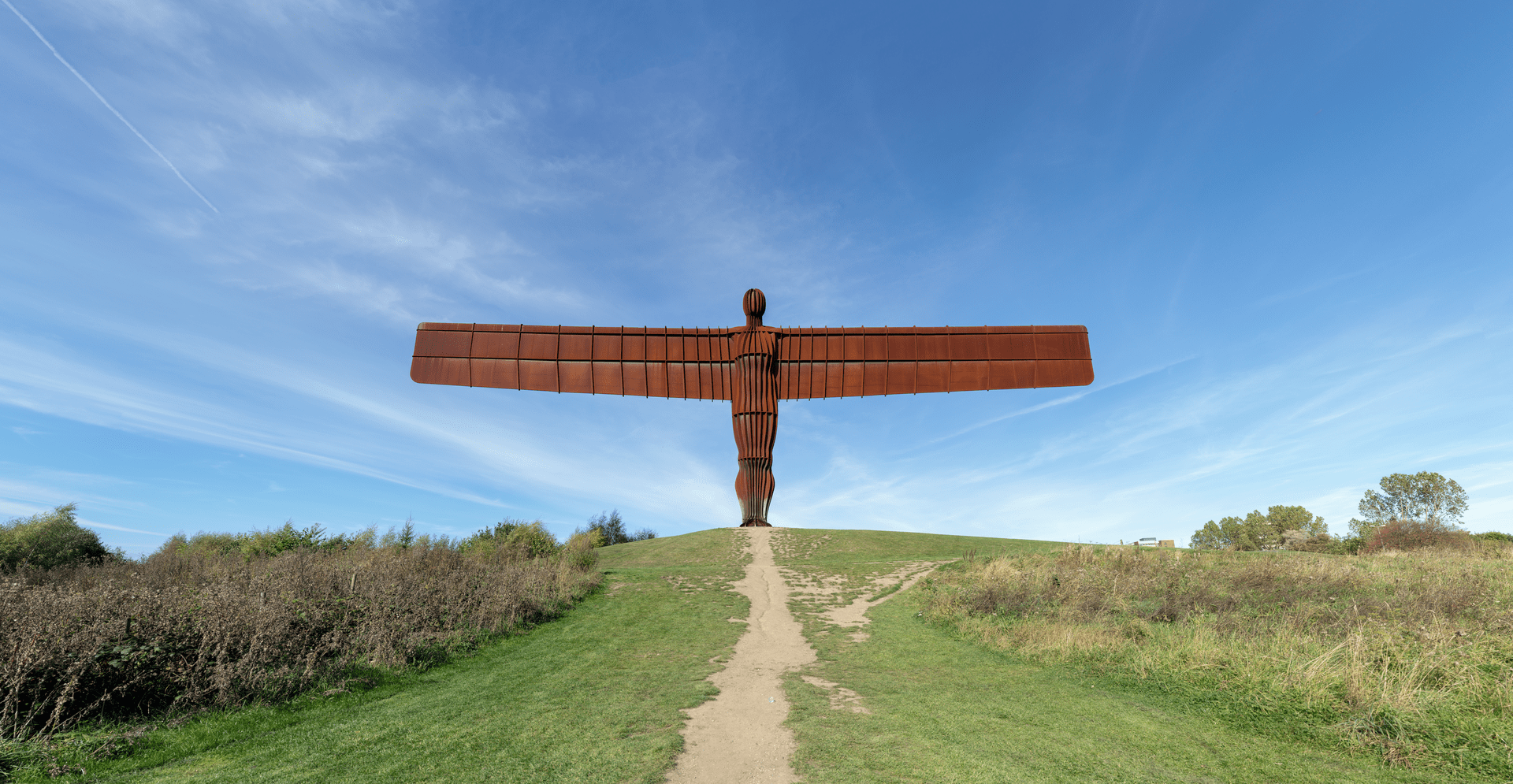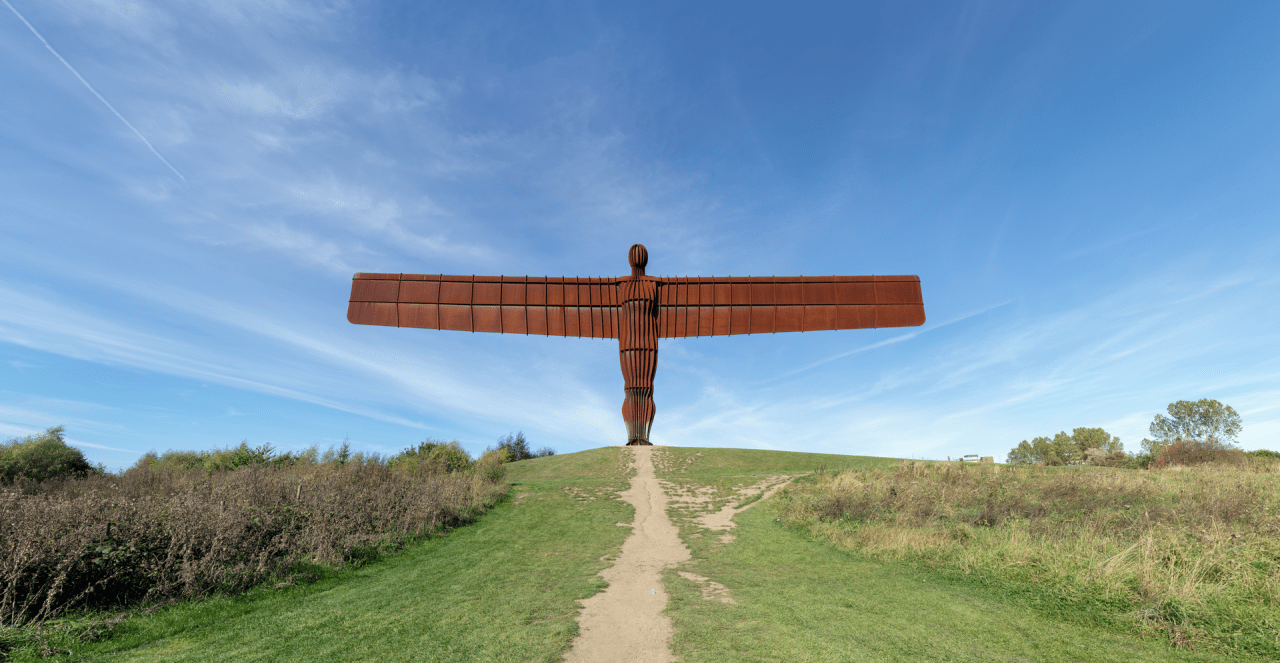 Antony Gromley has studied at Saint Martin's School of Art and Goldsmiths in London, and the Slade School of Fine Art, University College, London.
One of Gromley's most notable works is The Angel of the North. The angel spreads its wings in Gateshead, England. Since its installation in 1998, it has become one of the most talked about public pieces of art ever created.
Gromley says that the significance of the angel is three-fold: to signify that coal miners worked for two centuries beneath the site of its construction, to grasp the transition from an industrial to information age, and to serve as a focus for our evolving hopes and fears.
The statue is made of cor-ten steel. The concrete foundation weighs 600 tons, the body weighs 100 tons, and the two wings weigh 50 tons each. The Angel of the North has been called an "Icon of England".
9. Pablo Picasso's "The Chicago Picasso"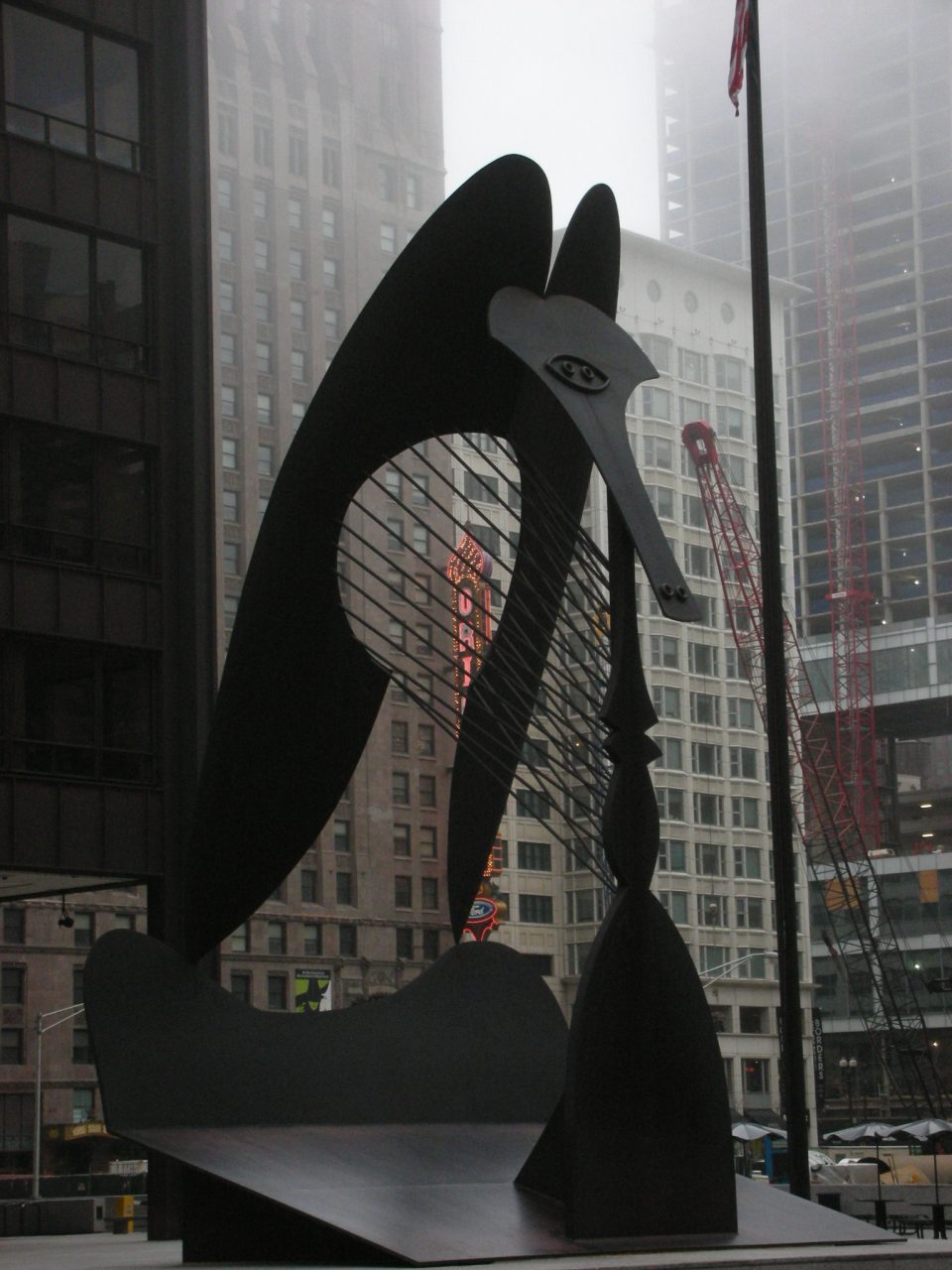 Pablo Picasso was a Spanish painter, sculptor, printmaker, stage designer, poet, and playwright who famously co-founded the Cubist movement, invented constructed sculpture, and co-invented the collage. Picasso's father began formally training him in figure drawing and oil painting at 7 years old.
Picasso's sister Conchita died of diphtheria in 1895, and his family moved to Barcelona where Picasso's father Ruiz took a position at its School of Fine Arts. Picasso's father begged officials at the academy to allow him to take an entrance exam for the advanced class. This exam process often took students a month, but Picasso completed it in a week. The jury admitted him at just 13 years old.
At 16 years old Picasso set off for the first time on his own and stopped attending formal instructional classes. instead, he preferred to spend time admiring the beautiful artwork around the city.
The Chicago Picasso was commissioned in 1963 by the architects of the Richard J Daley Center. The cost of constructing it was $351,959.17. Picasso himself was offered payment of $100,000, but he refused it stating that he wanted to make his work a gift. The Chicago Picasso, which has become a symbol of the "Windy City", stands 50 feet tall and weighs over 162 tons!
10. Anish Kapoor's "Cloud Gate"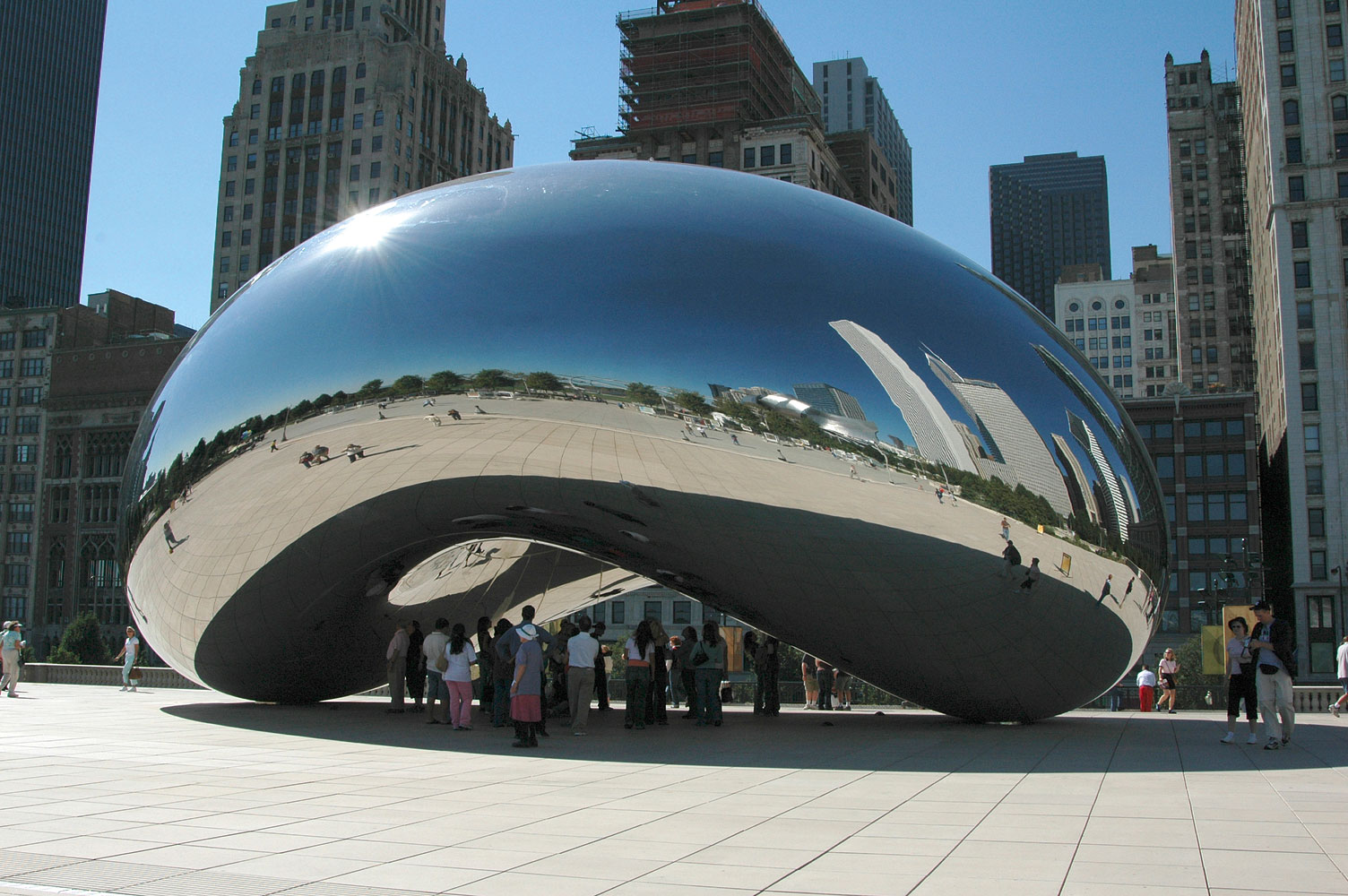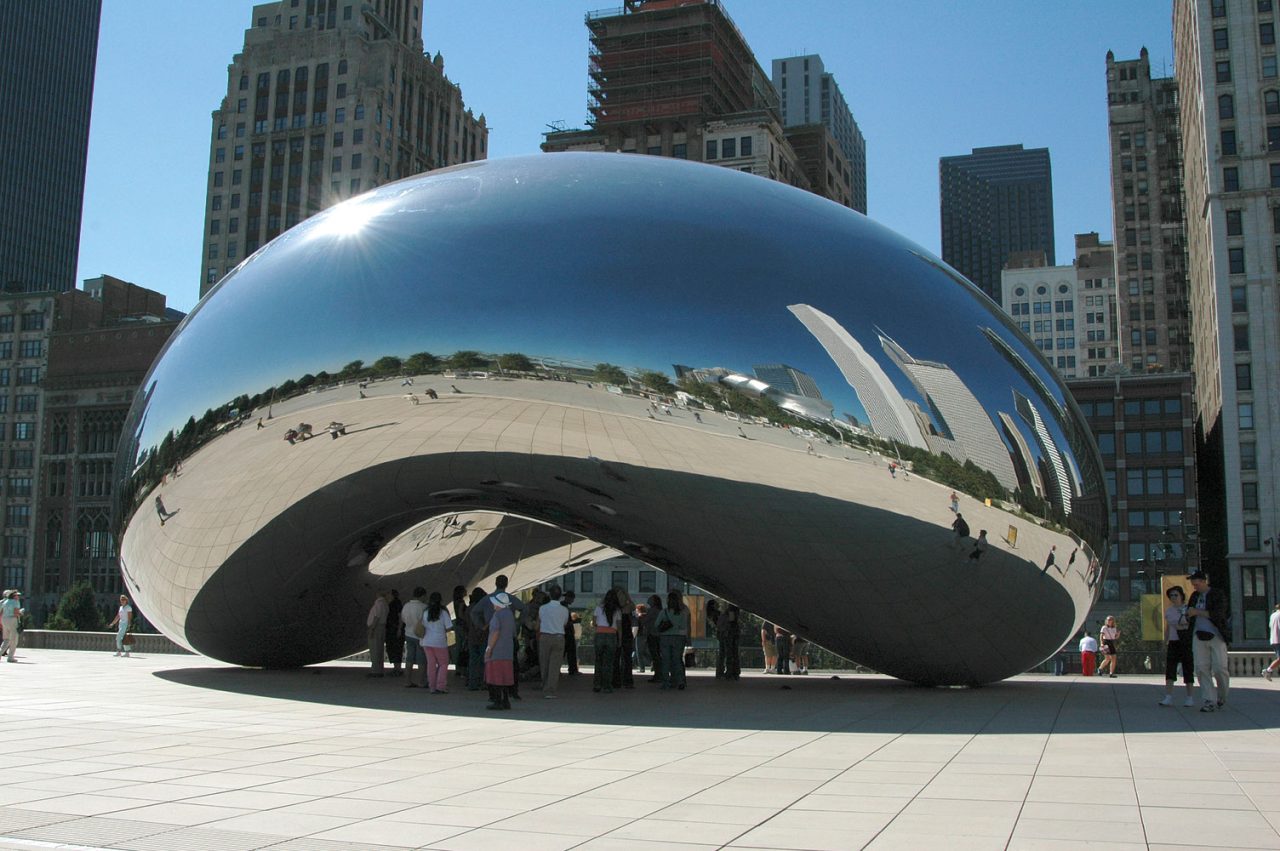 Anish Kapoor was born in Bombay and moved to London in the early 1970s to attend the Hornsey College of Art (and later the Chelsea School of Art and Design). He became known in the 1980s for his geometric or biomorphic sculptures made out of granite, limestone, marble, pigment, and plaster. The early sculptures are simple, curved forms that are usually monochromatic and brightly colored. In the late 1980s/early 1990s he was acclaimed for his free-standing sculptural works and ambitious installations.
Since 1995 he has worked with the highly reflective surface of polished stainless steel. These works are mirror-like and reflect or distort the viewer and the surroundings.
Cloud Gate in Chicago's Millennium Park is a steel-made sculpture that reflects the vibrant city's skyline. Taking on the appearance of a brilliant silver pillow, it is easily one of our favorite pieces of steel art.